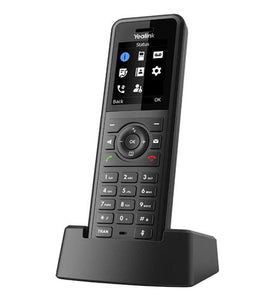 Business Design, Exquisite Details

W57R is Yealink's most recent professional DECT phone. It features a business appearance of a smartphone that fits into
the daily routine and a belt clip for simple carrying. It's small and lightweight but compact, having a 1.8" TFT color display
and an optimized dial-pad layout with more key space. W57R also has a disinfectant-resistant surface and will not
fade when exposed to UV-C light.
HD Audio Quality,
Noise-free Conversations
With over 20 years of experience in audio technology, Yealink applied a combination
of state-of-the-art technologies to the W57R to provide users with crystal-clear calls.
Even in complex or wireless interference-filled environments, the W57R could deliver
a stable and high-quality audio experience that fits perfectly into everyday work.
Superior Durability,
Professional Protection
The Yealink W57R is a professional rugged DECT phone built to endure
even in harsh work environments.

-It can withstand a 3.5m drop without being damaged, and its durable
rubber surface prevents slips, scratches, and everyday wear and tear.

-There is also no need to worry about the Oops moments in daily life, as
the W57R resists spills and splashes of liquids like coffee, soda, and juice.

-Protection rating of 54 (IP54), dust doesn't stand a chance, either.
Seamless Compatibility,
Free Mobility
Yealink W57R is compatible with DECT bases of single cell (W70B) for
small- to medium-sized business as well as multi-cell(W80DM/W90DM)
for larger spaces, providing superior mobile communication experience
with seamless handover and an industry-leading roaming solution to
meet diverse needs of scalable DECT solutions.
Yealink W57R DECT Handset
Features at a Glance
1.8" color screen with intuitive UI
HD voice with Opus audio codec and Noise Cancellation
Up to 40 hours of talk time
Up to 575 hours of standby time
Vibration alarm
No Perception Upgrade, not affecting any work
Withstand falls of up to 3.5 meters